MOTHERS' DAY GIFT SELECTIONS: A Baker's Dozen, plus three
Monday, May 06, 2019
HAWTHORNE, Nathaniel
The Scarlet Letter
Boston: Ticknor, Reed & Fields, (1850).
FIRST EDITION, FIRST PRINTING
An exquisite copy. All ads and errors uncorrected: "reduplicate" for "repudiate" on l.20 of p.21; characters" p.81, l.5; "chatechism" p.132, l.29; and "known of it" p.199, l.4. Bound by Sangorski & Sutcliffe in beautiful tan full polished calf, gilt tooling to spine, skillfully rebacked and with required extra title page and preface for the second edition bound in at rear. Called "The Greatest American Novel," and acknowledged as one of the most widely printed and highly acclaimed American novels of all time. An historical revisitation of Puritan Massachusetts.

The First Edition consisted of a mere 2500 copies; the entire run sold out in just ten days. This title, the true cornerstone of American literature and a highly important example of a serious literary investment, comes presented in a truly magnificent custom clamshell box.
$8,500.
WHITMAN, Walt
Leaves of Grass
Camden, New Jersey, (1876).
AUTHOR'S EDITION limited to a mere 600 copies.
SIGNED BY WALT WHITMAN
A fresh, tight, superb copy, beautifully bound in rich green full morocco by Sangorski & Sutcliffe/Zaehnsdorf with raised bands, gilt titles, etc. Signed by Walt Whitman.
$17,500.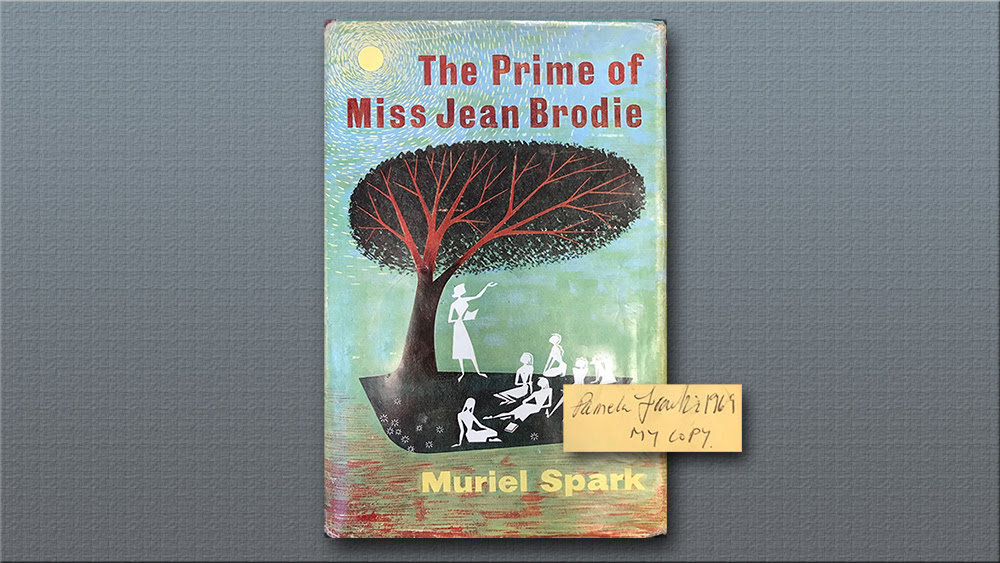 SPARK, Muriel
The Prime of Miss Jean Brodie
London: Macmillan & Co., Ltd., (1961)
FIRST EDITION, FIRST PRINTING
SIGNED BY PAMELA FRANKLIN
Called by The Guardian, "One of the 100 best novels in the English language," and listed on the Random House/Modern Library 100 Best Books of the 20th Century. This is the personal copy of noted actress Pamela Franklin who starred with Maggie Smith in the award-winning film version. A very near fine copy in the pictorial dust jacket. On the front free endpaper Ms Franklin has written:
Pamela Franklin 1969 / My copy.
$1,650.
WILDER, Thornton & Kent, Rockwell (Illustrator)
The Bridge of San Luis Rey
NY: Albert & Charles Boni, Inc., (1929)
FIRST EDITION, FIRST PRINTING
SIGNED BY THORNTON WILDER & ROCKWELL KENT
Fresh fine copy, #1097 of only eleven hundred copies of this Pulitzer Prize-winning, much beloved novel. A highly collectible example, and signed by both Thornton Wilder and Rockwell Kent.
$550.
HARDY, Thomas
Wessex Poems and Other Verses
With thirty illustrations by the Author
London/New York: Harper Brothers, (1898)
FIRST EDITION, FIRST PRINTING
Extremely scarce – one of only five hundred copies printed. The author's highly prized collection of poems. Bound in beautiful rich full calf, a wonderful addition to a poetry lover's library.
$2,850.
RICE, Anne
Interview With The Vampire
NY: Knopf, (1976)
FIRST EDITION, FIRST PRINTING
SIGNED BY ANNE RICE
Tight, square, very near fine copy in the bright original gold foil dust jacket with just a modicum of very shallow chips to the crown & foot of spine, else a highly presentable example. Basis of course for the hit Neil Jordan-directed 1994 film starring Tom Cruise, Brad Pitt and others. A very collectible copy with the author's personalized New Orleans bookplate – SIGNED BY HER – laid in.
$1,400.
CHRISTIE, Agatha
Destination Unknown
London: Collins, The Crime Club, (1954)
FIRST EDITION, FIRST PRINTING
SIGNED BY AGATHA CHRISTIE
Very near fine in like original dust jacket. The author's highly acclaimed Morocco-set mystery. This unique copy BOLDLY SIGNED ON THE TITLE PAGE BY AGATHA CHRISTIE and comes with a lengthy letter of provenance by the auction house at which it was purchased.
$3,850.
STYRON, William
Sophie's Choice
NY: Random House, (1979)
FIRST EDITION, FIRST PRINTING
SIGNED BY WILLIAM STYRON
Superb fine copy of the author's massively successful fifth novel, basis for the 1982 Alan J. Pakula-directed film which won Meryl Streep one of her fifty thousand Oscars. A great copy, obviously unread, and signed on the half-title page by William Styron.
$650.
GALSWORTHY, John
The Forsyte Saga
London: William Heinemann, (1922)
FIRST EDITION, FIRST PRINTING
Scarce. Very good or better copy of the internationally beloved classic. Bound by Sangorski & Sutcliffe in three-quarter leather with gilt titles, raised bands, etc. Original covers and spine sewn in at rear. Highly collectible.
$1,500.
THOMAS, Dylan
18 Poems
London: The Fortune Press, (1934)
FIRST EDITION, FIRST PRINTING
Excellent collector's copy in its original dust jacket of the acclaimed poet's first book. Rarely seen in such condition.
$1,000.
LEE, Peggy
Miss Peggy Lee
London: Bloomsbury, (1990)
FIRST EDITION, FIRST PRINTING
SIGNED BY PEGGY LEE
Fine copy in like dust jacket of the beloved singer's autobiography. This copy comes enclosed with numerous articles and other ephemera saved by Miss Lee, and on the front free endpaper she has inscribed and signed it with "so much love. There is no one like you anywhere!" to Dom and Carol DeLuise.
$650.
HEPBURN, Katherine
An extraordinary letter written in her hand and in her own highly unique style to Joan Crawford thanking her for her condolences on the death of Spencer Tracy. Penned on Tracy's own letterhead and dated June 14, 1967 (as Hepburn dated it VI – 14 – 1967) only four days after Tracy's death of a heart attack, this extremely moving 17-line letter, even at one point referencing Tracy's final film, Guess Who's Coming to Dinner:
"…….I think that his big old heart had simply beat itself out – and it stopped – and he had no struggle – no terror – in a second he was dead – and it was nice that he made the picture – But what can one say – Thank you dear Joan – Kate"
Beautifully displayed, and easily removable, in a custom Lucite frame with open sides and top. . An amazing and extremely rare, truly one-of-a-kind item of important Hollywoodiana.
$8,500.
AUSTEN, Jane
Mansfield Park
Illustrated by Hugh Thomson
London: Macmillan & Co., (1908)
FIRST ILLUSTRATED EDITION
A very good copy bound by Hatchard's in green three-quarter leather with raised bands, gilt titles, floral endpapers.
$500.
LAWRENCE, D.H.
Pansies
Brooklyn, New York: Theo. Gaus' Sons, Inc.
Private Edition Limited to 1,000 Numbered Copies